A revista Jump dessa última semana revelou em sua scan pela primeira vez os nomes dos protagonistas de The Last Story: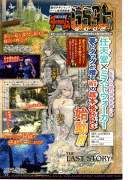 O herói se chama Elza. Ele é um mercenário que chega até Ruri Island, além de ser um grande admirador dos cavaleiros, que possuem rank e poder.

A heroína se chama Kanan. Ela veste um vestido branco, e aparenta ter um "ar" de alta sociedade sobre ela.

Essa é a primeira vez que The Last Story é destacado em scans da revista Jump, o que indica que talvez se torne mais rotineiro ver o jogo aparecendo também em próximas edições.

Você pode conferir um pouco mais sobre a importância dos personagens em The Last Story através do nosso artigo anterior,
clique aqui
.
obs: Os nomes dos personagens soam como se estivessem invertidos entre herói e heroína, mas até surja uma confirmação diferente, eles permanecem dessa maneira.
Fonte